Why is Cardano a top Cryptocurrency project?
The cryptocurrency space has hit major milestones this year as blockchain technology threatens to disrupt many traditional industries as the overall market cap of cryptocurrencies smashed $3 trillion dollars. Bitcoin became legal tender in a nation state, large institutional players are purchasing Crypto, Tesla began accepting Bitcoin as payment and the Defi (Decentralized Finance) and NFT (Non-Fungible tokens) sectors have exploded in value and activity.  If you're not following the cryptocurrency markets, then you will not be aware that Cardano had briefly climbed into the top 3 in terms of market capitalization, only behind Bitcoin and Ethereum.
Since the start of 2021, it has drastically outperformed the top 2 cryptos including the best performing S&P500 stocks, and mineral assets such as Gold.
Currently, $ADA, the native coin of Cardano, has a unit price of $2.00 (at the time of writing), with a recent 'All-time High' (ATH) of $3.10 at the start of September 2021. However, despites its ascent, Cardano continues to be a very polarizing project and is very often the subject of heavy criticism from many other Cryptocurrency projects and investors and has at times been the victim of people spreading FUD (Fear, Uncertainty & Doubt), misinformation and outright lies about the project. Cardano is notorious for its slow, methodical development based on academic research and peer-review studies and its laser focus on security. This is in response to the industry being a rapidly evolving space as new software and technologies tend to have bugs and flaws at their launch, while those in the traditional finance world often label the space the 'wild west' due its lack of regulation, price volatility and the regular occurrence of scams and hacks.
Here are 15 reasons why Cardano exploded in 2021 and is poised to grow over the coming decades: 
1. Cardano is a '3rd Generation' Blockchain and Smart Contract Platform Designed for Mass Adoption Across a Range of Sectors
Cardano has a huge vision and aims to provide decentralized financial services and digital identities to billions of people across the world, particularly those in developing countries.
It is a 'smart contract platform' thus boasting superior capabilities to Bitcoin and is in direct competition with Ethereum, among other projects like Solana and Polkadot. While Bitcoin has an obvious use-case as 'digital gold' and being a hedge against FIAT money printing by governments and hyper-inflation, smart contract platforms are no longer regarded as mere ideas for world computers. They're a lively ecosystems of users, capital, and applications that are collectively driving trillions of dollars in economic activity. Ethereum has led the charge here, now securing over $700 billion in assets, transacting more than $2.5 trillion per quarter, and hosting thousands of applications. It has been rewarded handsomely for this growth with Ethereum reaching an all-time high $450 billion market capitalization in recent months.
In contrast, Cardano has yet to mature as an ecosystem as it utilizes an academic approach to its development, undergoing peer-review of its protocol and undertaking rigorous testing of its code, before releasing any products to market. 
It's made of up three core entities with different responsibilities:
IOHK

(Research, Development, Engineering)

The Cardano Foundation

(Legal Custodian, Drive Adoption)

Emurgo

(Commercial)
 To exemplify its approach to academic rigour, IOHK has written 116 Academic and peer-reviewed papers in the field of blockchain development.
https://iohk.io/en/research/library/
Cardano has been in R&D for many years now and this year entered Phase 3 of 5 of its development roadmap, the 'Goguen Era' with the recent launch of 'Smart Contract' capabilities. This release has been highly anticipated and is probably its most significant. On September 12th, Smart Contract capabilities were launched smoothly and this now enables DeFi within the ecosystem to compete with other platforms.
2. Vision – 'Banking the unbanked' and 'connecting the unconnected' 
Cardano has a huge vision for its deployment and its essential purpose is to provide an economic platform of equality and inclusiveness. A key strategic aim is to 'bank the unbanked', as around half of the worlds' population do not have access to  financial services, lack formal identifications and struggle to prove property rights.
 This has led to a sharp focus for its early adoption in Africa,  where many countries lack the reliable financial infrastructure to serve its people fairly. Also, national banks in developing countries such as Africa often charge abhorrent remittance fees when working abroad in developed countries and trying to send money home to their families.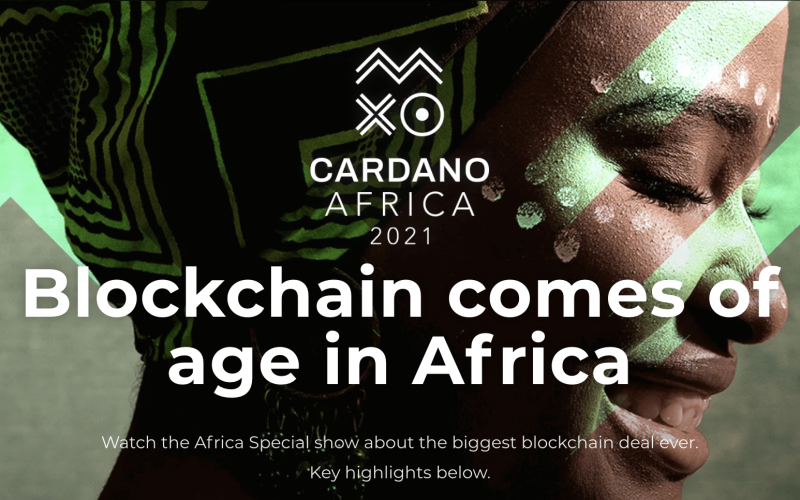 https://africa.cardano.org/
As one of the largest blockchain deployments in the world to date, Cardano announced a government contract with Ethiopia, a deal which will provide five million students with blockchain-based IDs to record their academic performance and allow for optimization of the curriculum, based on the data. 750,000 teachers will also get access to the system. With these ID's, people will be able to avail of the DeFi services Cardano has to offer. Take a look at this article to learn more details about Cardano's role in Ethiopia.
Also with its partnership with 'World Mobile,' a telecoms provider who utilizes blockchain technology, Cardano is aiming to first to try to 'connect the unconnected and banking the unbanked'. 
IOHK CEO and Cardano founder, Charles Hoskinson, recently embarked on a tour across the African continent, including countries such as South Africa, Ghana and Egypt, where he met various heads of states and business leaders. He also met with the President of Burundi where a MOU was signed by both parties to explore future digital transformation of Burundi utilising the Cardano blockchain.
3. It is the Largest Proof of Stake Network in the World and is Fully Decentralized
Cardano ADA functions using 'Ouroboros', a Proof-of-Stake (PoS) protocol that incentivizes ADA holders to participate in 'running' the network by validating blocks of transactions and add them to the blockchain. PoS is in contrast to Bitcoins 'Proof of Work' system, where Miners compete against each other to earn the right to 'mine' or validate blocks for rewards.
Investors can earn extra ADA by 'staking' their coins tothe network with a stakepool to earn around 5% a year, risk-free and without their coins being locked up. With price appreciation, this can be a lot! Using what is effectively a lottery, the protocol elects a 'Stakepool' every 20 seconds to validate a block on the ledger. The designated pool has to be online at the time to validate the block and earn rewards.
Cardano has achieved full decentralization of its network. Decentralization is the key ethos of any authentic blockchain project as it ensures the network cannot be ruled, manipulated or corrupted by any central entity or figure. With over 3000 stake pools, all blocks are being validated by community pools without any contribution from IOHK, who retired their pools in March 2021.
For more on Cardano's Staking, Click here.
Compared to 'Bitcoin Mining' (PoW)  one of the biggest bonuses of Ouroboros, and therefore Cardano, is that it doesn't require the extensive computation resources that Bitcoin requires to create a block, making it a lot more energy efficient.
Stakepools consume approximately the same energy annual energy consumption of a family home per year. Recent figures from Bitcoinenergyconsumption.com show Bitcoin's estimated annual emissions is over 57 million tonnes of CO2 per year, which is about the same annual carbon footprint as a small European country.
Meanwhile, Iran and China temporarily banned all crypto mining this summer because computers used in the process were sapping too much electricity and causing power cuts.
ADA has a max circulation supply of 45billion and there is around 32 billion coins currently in circulation. 
As of Epoch 290, 72% of Ada is staked, equating to over 23 Billion ADA, which is on of the most staked networks by value in the market ($46 billion).This is very impressive when you compare it to other POS blockchains. Ethereum is planning to switch from PoW to PoS, however, there is no exact timeline when this will occur.
https://www.stakingrewards.com
With a high percentage of ADA staked, this results in fewer coins being available on the market for trading. During market volatility, ADA holders are incentivized to hold their coins for staking rewards easing any downward selling pressure and increasing price when there is demand in the market.
4. It's Very Fast and With Cheap Transaction Fees, Compared to BTC And ETH
Ethereum is by far the largest Smart Contract Platform, approx. 7 times the market cap of Cardano and has a large amount of DApps already functioning on the network. For example, 'Uniswap' is the largest Decentralized Exchange (DEX) in the world with a MC of $18billion.  Ethereum was created in 2013 but its design is encountering scalability limitations which is resulting in huge fees for using the network. 
A check of todays (October 6th) trading volumes on both networks, shows that despite transacting a slightly greater amount of value in dollars across there blockchain, Cardano fees are approx 150x cheaper than the fees on Ethereum.
ETH
Transaction Volume (24hrs): $13B
Fees: $61.3m
$ADA
Transaction Volume (24hrs): $13.6B
Fees: $41.4K
https://messari.io/screener/most-active-chains-DB01F96B
Another aspect to note here is that when a transaction fails on the ETH network, users can lose their funds! While on Cardano, if is automatically refunded.
 Ethereum is currently developing 'ETH 2.0', which will reportedly fix this fee issue but again the rollout of ETH 2.0 is not clear.
The reason for this huge difference is that Cardano has a transaction fee of 0.17 ADA ($0.50c) currently. While this still may not be ideal for buying a cup of coffee in the future with $ADA, the Cardano community can decide on transaction fees by voting through its governance model. Also it is anticipated that 'Djed' will be the official stablecoin of Cardano and may be the primary asset used for settling fees on the network.
Another aspect to note here is that when a transaction fails on the ETH network, users can lose their funds! While on Cardano, if is automatically refunded.
.
5. Scientifically Peer-Reviewed Code to Ensure Security
There have unfortunately been millions of dollars lost on other protocols due to poor research and security levels in their code. Cardano has been under development for 5 years, and it uses formal  methods to verify the code and stress test. It was designed with the ability to scale to billions of people with security in mind.
This emphasis is to avoid events like the Etheruem DAO hack in 2016 where a hacker  managed to steal and transfer 3.6 million Ether into a personal account which sent the industry into panic mode while a recent hack of the Poly network resulted in $600m being stolen.
https://www.cnbc.com/2021/08/11/cryptocurrency-theft-hackers-steal-600-million-in-poly-network-hack.html
6. Interoperability & the 'ERC-20' Convertor
As the blockchain technology grows, users will demand to use their funds within one DeFi ecosystem and then exchange them with another, and Cardano sees this need as a growth opportunity. Many experts predict that the space won't lead to 'a winner take all' scenario, rather a crosschain network of leading projects. Therefore, interoperability will be key going forward. Cardano's partnership with the Nervos (CKB) network exemplifies its focus on interoperability with other blockchains. 
Cardano also has designed a convertor that can migrate Ethereum tokens to Cardano seamlessly, enticing projects to avoid the high gas fees on ETH.
The first token to be migrated to Cardano upon launch will be SingularityNET – a network specialising in decentralised artificial intelligence. 
Users can convert their Ethereum 'ERC20 Standard' tokens in just a few clicks, and when moved across, these tokens will be 'translated' into a special native token on Cardano of the same value. Additionally this works both way, if the user wishes to do so at a later stage, they can move their tokens back to the source network by burning them on Cardano. 
The ERC-20 Convertor is in its testing stage and is expected to be released over the coming months.
.
7. Programming Languages
Plutus
Cardano has developed its own custom smart contract language that is intended to improve upon the weaknesses that Solidity, Ethereum's smart contract language, has in its design. Plutus is built on Haskell, and is a functional language that offers more predictable, high assurance code as opposed to Solidity (Ethereum) which is an 'imperative language'.
While offering greater creativity, Solidity has a reputation of leaving a lot of room for developers using it to make mistakes, shown by the infamous 'DAO' hack on Ethereum due to flaws in the contract code. Functional programs like Haskell & Plutus offer greater "determinism' and predictability in the 'inputs and 'outputs' of the code being created. 
(FYI IOHK stands for 'InputOutput Hong Kong'). As SingularityNet's Founder Ben Goerstzel recently stated that mistakes are more easily made when programming in Solidity, compared to Plutus / Haskell.
IOHK also operates  the 'Plutus Pioneer Program' which attracts and trains developers in using Plutus so that they are able to develop on the Cardano mainnet. 1500 developers graduated from the first cohort in the summer 2021, while another 2800 are in training in Cohort 2. These numbers added to the existing Haskell developers in the world (no other blockchain is written in Haskell) should provide Cardano with a sea of talent for future development. 
For context, recently Charles Hoskinson pointed out that while there are around 22.4 million developers in the world, only around 80,000 use or know 'Solidity' language. Of those, only around 10,000 are active dApp (decentralised app) blockchain developers.
But what about the other developers who use JavaScript and other mainstream languages? Cardano has a solution here too. Its partnership with 'Runtime Verification' has led to the development of 'IELE Virtual Machine", which when released, plans to deliver 'multi-language functionality' allowing programmers proficient in Javascript, Python and other mainstream programming languages to have an easy way to compile their code and integrate with Cardano. This enables them to develop their apps in any language without having to learn Plutus.
IELE is scheduled to release in Q1 2022.
Marlowe
But what about non-technical folk? Well IOHK & Cardano have a solution here too. 
Its called 'Marlowe'. Marlowe is a new language for modeling financial instruments as smart contracts on a blockchain. It has been designed for people who are business engineers or subject experts rather than experienced developers. Essentially, non-coders can create peer to peer smart contracts using the 'Marlowe Playground' where users can 'drag and drop' blocks to form the aspects of the contract. Pretty neat eh?
https://alpha.marlowe.iohkdev.io/#/
Also true to their academic and research driven principles, IOHK have partnered with the European Business University of Luxembourg, to rollout training and educational courses in Plutus and Haskell to those in those developing countries, particularly in Africa. While supporting the overall mission in Africa, These programs will add to the supply of Haskell programmers and provide students with in-demand skills in an innovative industry.
https://iohk.io/en/blog/posts/2021/08/24/making-education-in-africa-more-accessible-affordable-and-equitable/
8. Community Initiative 'Project Catalyst'
Project Catalyst is a key weapon of Cardano and essentially acts as Cardano's own Venture Capital fund whereby its purpose is to fund and accelerate community-driven innovation on Cardano. 
At the launch of Cardano some of ADAs overall supply was set aside in the 'Treasury' and allocated for 'Project Catalyst'. It is also continuously supplemented with ADA from part of the transaction fees on the network. 
New projects and development teams can apply for funding for their own project development, with the winning proposals usually addressing a real world problem and / or helping to build the Cardano ecosystem.
ADA holders vote through their wallets on the applications (with voting power based on their ADA coins), implementing a democratic governance model on the blockchain for the first time. 
The programme has completed 5 funding rounds to date and is currently on 'Fund6', with $4million worth of ADA available. Project Catalyst is on course to become the largest 'DAO' (Decentralized Autonomous Organization) in the world as it increases round by round. With the current price of ADA, the project has around $1.5billion allocated for future funding rounds!  To date, 150 projects or ventures have been funded.
The last phase of the Cardano roadmap is called 'Voltaire' and is focused on implementing full-scale 'on-chain governance' to the ecosystem. This will mean that the growth and direction of the network will be in the hands of the ADA holders through voting using their wallets, and not directed by IOHK or Charles Hoskinson, ensuring a democratic future for the ecosystem. While 'Atala Prism', Cardano's Identity solution used in Ethiopia, has been designed to have the capacity to host local or national elections in the future The on-going success of Project Catalyst demonstrates 'governance' being baked into the network already.
9. DeFi Ecosystem
With the successful launch of Smart Contracts on September 12th, Cardano's Ecosystem is starting to come alive. Many projects including D'Apps (decentralized applications) and DEX's (decentralized exchanges) have been building on the testnet in recent months and many will be deploying in either Q4 2021 or Q1 2022..
A deep dive into these projects is beyond the scope of this blog but to view each projects details for further research, we recommend visiting 'buildingoncardano.com', a website resource developed by our Irish SPO colleagues 'Cardano Paul' and 'Paddy Shamrock', where individual projects have registered their project information.
Key projects include:
SundaeSwap – Decentralized Exchange
COTI – Payment Network
MELD – Borrowing & Lending Protocol
World Mobile Token – Telecoms Network
We predict the Defi space on Cardano to explode in the coming months and years, as users take advantage of the low fees, security and staking mechanism on Cardano. For example, We at BonafideADA, are happy to announce we have joined 'ASPA', an alliance of Stakepools officially partnering with "Ardana' Protocol, which is stablecoin DEX and stable asset liquidity pool. A unique feature of Ardana's lending protocol is that when applying for a loan (stablecoin), lenders can use their ADA as collateral, however, they can still receive their staking rewards from their stakepool as normal (potentially offsetting or covering the fees of the loan). These types of benefits are not available on Ethereum or other PoS blockchains to our knowledge.
In terms of price, these projects will need to secure ADA for liquidity for their protocols using smart contracts, thus removing ADA from available circulation. Less supply should result in a supply shortage and thus a price increase!
10. Largest and Most Committed Online Community
Cardano is renowned for having the largest and most committed online community. The Cardano community have very much bought into the thesis of developing the ecosystem with the correct standards and processes in place, with the ultimate goal of bringing life changing financial inclusion to those in the world who have been excluded from global commerce. This commitment is demonstrated by many of the Cardano Stakepools who contribute to the ecosystem with technical tools and educational websites or by donating some of their profits to their mission driven purposes such as helping people in need or the environment.
https://www.missiondrivenpools.org/ 
The number of ADA wallets is approaching the 2 million milestone, while nearly half of those wallets are participating in staking. According to research undertaken by Grayscale in September 2021, one of the largest Crypto institutional investors and fund managers in the world, Cardano has 2.8 million 'Monthly Active Users' (MAUs), compared to 7 million MAUs on Ethereum and this gap has been reducing in recent months. Given the Ethereums Marketcap is around 6 times larger than Cardano, this has led Grayscale to conclude the ADA may actually be undervalued in comparison to Ethereum.
We have seen how technology and systems will evolve and be replaced with one that have greater utility. In a highly competitive market where projects boast their individual technical superiorities, Ecosystems that have core values and stand for something will be the ones standing the test of time, even if their products have delays or issues. Cardano has a very powerful message and brand in the crypto space and this may be a big factor in more people being attracted to the network. Ethereum has a strong network effect currently and is known for its 'utility'. However this can always be replaced and the number of increasing users may be alluding to this.
12. Non Fungible Tokens (NFTs)
NFTs are probably the new phenomenon and innovation of this market cycle. NFTs are a type of cryptographic token that depicts or represents a unique asset. Those assets can be either complete digital assets or tokenized versions of real-world assets. The value of an NFT depends on the quality, scarcity and mainly rarity of the digital asset it is representing. Ethereum is currently the main marketplace for the minting, buying and selling of NFTs, along with Solana, but the Cardano NFT space has been exploding since the summer.
Currently the main NFTs collections are 'digital artwork', often based on a limited amount of digital characters with different features or attributes that give each one a 'rarity factor'. Recently a Cardano based 'Spacebud' NFT sold for over $1 million dollars, illustrating the hype nad usage of the Cardano NFT space.
CNFTs can be bought and sold at https://cnft.io/
NFTs are tipped to disrupt many different industries in the future from the real estate sector to luxury retail sector. Illustrating the future potential use cases of NFTs, at the Cardano Summit 2021 in September, Cardano announced a partnership with 'Rival' a Leading esports, gaming and fan engagement enterprise platform, that will utilize Cardano to facilitate the minting, selling and the redemption of NFTs for physical goods and marketplace-based royalties within the Rival platform for its clients' gaming communities, including brands, media properties, sports teams and leagues.
.
13. Regularly Most Actively Blockchain On Github With Most Active Commits Showing Development
Cardano is regularly  most active blockchain on Github in terms of commits, showing that there is constant on-going development on-chain. GitHub commits serve as a barometer of community and developer activity as it refers to the amendments or additions made to the project's source code.
Ethereum and Cardano ranked first and second in terms of monthly active developers, with 168 and 165 per month, respectively.
.
14. Commercial Partnerships
IOHK have a prominent social media presence due to their regular 'Cardano360' events and consistent project updates, but the Cardano Foundation and Emurgo have also been working on the adoption of the Cardano blockchain in the background. CF has goals to onboard 50 banks to allow their customers to use and trade ADA for various fiat currencies through the platform's blockchain, while by 2026, aiming to partner with at least ten Fortune 500 companies. 
At the Cardano Summit 2021,a partnership was announced with U.S.-based TV and wireless service provider Dish Network, a Fortune 250 company. Dish is looking to integrate the Cardano blockchain to reinvent its telecom business using Cardano's digital identity solution which could bring up to provide 8 million users to the network. Like the government deal with Ethiopia, these users can avail of the Defi applications on Cardano. Additionally, Dish will also leverage the partnership to develop a blockchain-based loyalty program for its customers, similar to those deployed by airlines.
15. Charles Hoskinson
Charles Hoskinson is the founder of Cardano and has become one of the most prominent figures in crypto.. Recently he has attended several events in Washington DC to promote the industry and help explain blockchain technology to US regulators and politicians. He is very active on social media, and regularly hosts AMAs to provide the Cardano community with updates on project developments and explains the thesis behind many of Cardano's strategic goals. Charles is highly intellectual and charismatic, which are great traits in being an effective leader of any project. 
Crypto regulations are coming in the near future and Hoskinson is a forward-thinking CEO having built Atala Prism to allow for digital identification of users so Cardano will be regulation ready, unlike most other projects. Also a co-founder of Ethereum which he left due to philosophical reasons over Ethereum's direction, Charles' unrelenting vision of banking the unbanked is what has drawn many to the ecosystem.